Tell Me My Name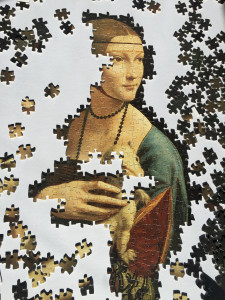 The riddle we can guess
we speedily despise
Not anything is stale so long
as yesterday's surprise
                                                      – Emily Dickinson
Every culture has riddles – they keep company with runes and spells and Christmas crackers, they challenge and entertain us, they remind us just how mysterious the world can be. Poets especially love riddles, perhaps because of the provocative power of metaphor. Over the years Bill Manhire has translated Old English riddles, and for Tell Me My Name he has composed a range of new riddles to be presented as songs. Sometimes the answers to these riddles are aspects of the natural world; sometimes they are the musical instruments which audibly bring them to life. The settings range from meditative ballad to joyful stomp, with Hannah Griffin's sublime voice woven in counterpoint with Martin Riseley's violin parts. Composer Norman Meehan performs at the piano, providing the sometimes delicate, sometimes muscular ground over which Griffin and Riseley's music can shine. This is music in which Béla Bartók seems to dance with Billie Holiday.
Tell Me My Name is a staged performance choreographed by Sara Brodie. The production is documented in a book incorporating the images of photographer Peter Peryer, Tell Me My Name (Victoria University Press, 2017).
In performance, the songs are interspersed with readings and parables, charms and ciphers, from Bill Manhire.
Two samples of the music are found here:
The book | CD set is available here: